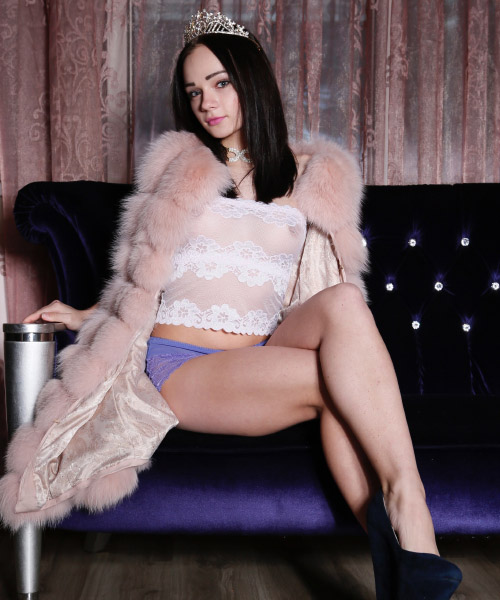 Karina – Your Majesty
105 Pictures in ZIP Format
Product Description
Downloadable photo album in zip format
Resolution: 2560 x 3840
Got something to discuss?
---
Guest
My god! Would love this in a Noir theme!!! Will be back for this later!
Guest
With Queens like this, no country would be a Republic. And now, I am going to pick up my jaw. It's on the floor, somewhere.
Guest
There are a lot of really great sets on Marvel Charm, nearly all of them in fact, but every so often there is one which I like even more, and this is definitely one of them. It all just adds up, the setting, lighting, poses, overall quality and off course Karina, she's such a beautiful girl!
You never seem to have trouble in knowing what the fans want, but just in case you ever do start to wonder, my answer would be: more like this, please.
Guest
Could not have said it better. An amazing set, she is a real queen and the panties are truly royal. If only it would be more than 105 pictures! Please more of her!
Boss
Many times people base quality by the level of equipment used or technicalities. I think a more powerful tool is knowing which colors work well together to create a good setting + mood. Knowing a little fashion or home decor goes a long way. We thank you for the kind words, I think this set has that "magic" touch as well!
Guest
Guest
Guest
Your Highness, I kneel before you…I am your Knight, your Champion, your Huckleberry!
Guest
great set karina is a babe just curious if isabella will be getting an update soon missed her over valentines week
Guest
WOW. One of your best and sexy models. 5 stars !!!!. More of her please.
Guest
I've spent the last fifteen minutes wiping steam off my computer screen! This is the hottest set you've ever presented. It's a virtuoso display of why MC is unmatched in its field: a perfect beauty confidently displaying her heart-stopping feminine charms in a perfect setting. Karina is a queen indeed, and I really like the direction she seems to be heading in (I'm thinking Valensia here!)
Guest
If I were a crooner, I would listen to Frank Sinatra. If I were a driver, I would look at Ayrton Senna. If I were a footballer, I would look at Lionel Messi. If I were a model, I would look at Val. Simple as that. I would obviously add my personal touch, but I would always remember the best in the class.
BTW, If I were to have my own website, MarvelCharm is the way to go.
Guest
Guest
Karina & Marvel Charm…..this set blew me away! Good job! Karina you are a beautiful girl with a body to die for! I have 5 favorite models here on MC and honestly if Ariana and company did sets like this……I would buy every single one of them and everyone after!! I personally feel sorry for the guys out there that will not purchase these sets and rely on dark methods..they have no idea what they are missing. We should all purchase and support these models because as beautiful and hot as they are, it will only get better!!
Guest
I've never had any complaints about giving my money to MC, because the sets are totally worth it. And the women are the prettiest on the internet.
I hadn't even been following Karina, and now it's taking all my willpower to not order everything else she's done. She looks beautiful in this set, and her body is incredible.
Guest
Highly recommend her Christmas set if you can't stand strong xD
Guest
Oh my lord another marvelous set. Every MC model needs to try out these cute shorts at least once. Oh…my…gosh.
Guest
I agree with Blaatschaap, more like this please.
Guest
You are not kidding, Frank. I second the motion.
Guest
please more butt shot and more video
Guest
she is soooo ridiculously B-E-A-U-tiful.