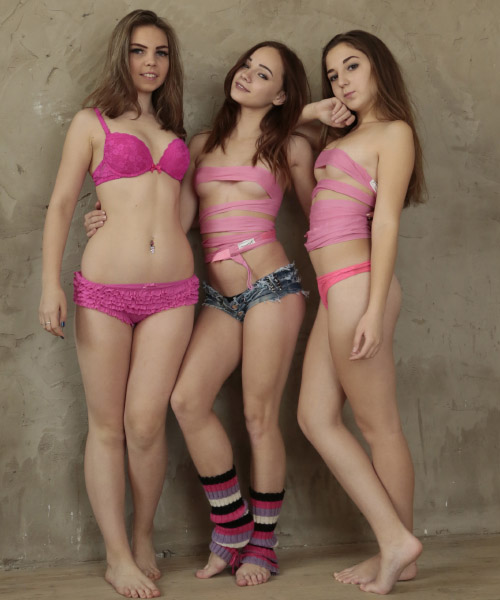 Rebecca, Ariana, Karina – Triple Threat
109 Pictures in ZIP Format
Product Description
Downloadable photo album in zip format
Resolution: 2560 x 3840
Got something to discuss?
---
Boss
We hope you like it. Here is one of our favorite images from the set.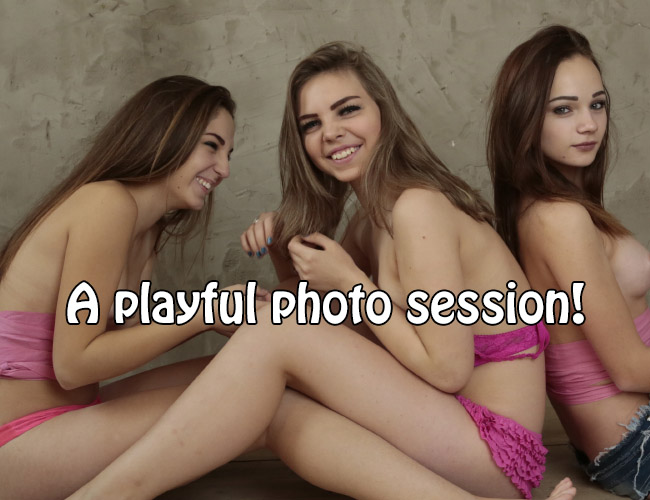 Guest
Wow, you guys are breaking the sound barrier now. Metaphorically speaking.
Guest
good God… this is a must have
Guest
Don't even have to think a second about buying this one.
MC and the girls manage to consistently exceed expectations.
I keep thinking "now way they can top this one" and then you do it time and time again. Couldn't be happier if I tried, thanks
Guest
This is an insta-insta-insta-buy, and there are still 4 more days left. I am not sure I can survive this Christmas. My heart is gonna give out.
Guest
I changed the name on mine to "Triple Treat"…exactly what it is…
Wonder what you guys have up your sleeves for New Years…can't wait!
Guest
Wow. Looks like I'll need to sell another kidney to afford all these awesome sets. You have the best site and models ever. Thanks for the early Christmas gifts!
Guest
Also, Karina is an absolutely incredible find. Marvel is one of a kind.
Guest
Goodness gracious, if this is what we have up with 4 days to go, then I will surely have a heart attack by Christmas! Keep 'em coming!
Guest
Dear. God.
Seriously. I'm going to need a second job at this rate!
Guest
OK, well, you guys officially win at Christmas! If you can somehow outdo this set, I would be absolutely amazed! But, if anyone could out shine this set, MC would be the ones to have something up their sleeves
Guest
My goodness! Can you imagine a video of this shoot?
This just keeps getting better and better and better, i can't even imagine anymore what the last couple of days will be like.
Guest
This is amazing! You guys rock! Merry Christmas to me lol
Guest
I really dont know what to say here…..I mean..jesus help me, I'm a completely flabbergasted drooling idiot!!! One could only hope that somehow you manage to top this. Dare I entertain the idea that maybe Candy will appear in the next 4 days dressed in a fashion that would melt Santa?!! My hat is off to you MC…welldone!
Guest
WOW ! ! ! These 3 are Perfect together ! Love the Sexy Playfulness ! So Great to see them having So much Fun together ! ! Merry Christmas to Everybody at MC ! ! Can only imagine what is yet to come from You ! Sure it will be Awesome ! ! Thanks again for working So Hard for us ! !
Guest
Am I dreaming? Must be!
Ariana, Karina and Rebecca each are stunningly beautiful and look so incredible together.
Not only the 3 of them but this set has it all, quality of images, lighting, fun poses, though 109 feels a bit light after yesterdays 200+ set, but by no means a small set.
These 12 days of Christmas sets have been nothing short of amazing, after yesterdays set I was hoping for perhaps another double set before the end, but a triple set, you guys are the best!
Guest
Such a fun set, the three of them look extraordinary. This has been the best Christmas present and we still have 4 more days to go.
Guest
Absolutely stunning young ladies! Looked at the big pic at the top of the page for about 2 sec and told myself "Yep, gotta buy it". I think the only way you could top this threesome is with a rehash of the Bathroom pictorial with Rebecca, Katrin, and Rikki. Love this site, love the models. Merry Christmas to all the staff and models. Merry Christmas to all the fans.
Guest
I definitely need my laptop back from repairing! O.o
Guest
3 out of 4 of my favorite models in one set? Done!
Guest
… just "WOW!". I like the "cool" setting of this set.
Guest
i'm looking forward for what we will see on christmas day


an absolutly fantastic sets !!
Thank you girls ♥♥♥
Guest
Wow…what beautiful sexy hot tripple treat…I love it

Guest
wow wow woke up to this and had to buy straight away!! 3 amazing models so stunning!!! Rebecca sure is the queen of marvel a Rebecca.com maybe needed
Guest
I'm pretty sure the ONLY way this set could be topped is if Candy modeled with Marisol

Guest
Wow, what a set. An instant buy for everyone! I wonder how this can be topped in the next days till christmas, nearly impossible! And I'm totally addicted to Karina, this is her third set and man, what a progression! Please many many more of her! Thank you MC for an unbelievable Xmas this year!
Guest
I'm addicted to Karina too– but I think this is her second set, since her hair is still more naturally-colored here. She's so beautiful that in herself, she makes the set overwhelming. I can't wait to see more of her! As a side note, the warmth of the hair color adds radiance to her face that isn't as visible when her very-chiseled features are contrasted more harshly with the black hair. The same can be said for makeup; I know it's a fine line to walk…but I think we viewers appreciate it when the model shows more without adding more makeup that dramatizes / changes her look, etc.
Keep up the awesome work and please remind the girls how gorgeous they are! I think they should hear those words regularly

Boss
I agree, but we don't tell them what to wear or how to do their makeup/hair color. Nobody wants a girl with a pound of makeup on. This is how their makeup looks when they are out with friends or going shopping.
And they hear those words all the time.

Guest
Thanks for letting us know; the girls' own preference is as natural as it gets

Guest
One of the Best sets of MC
Thanks
Georgeous girls
Guest
Looking back at my collection my heart pumps faster every time look back at my marvel collection. pretty pretty pretty Becca, Karina and Ariana. This is one of those must buy for all true fans of this ladies. This site must never die!
You may also like…