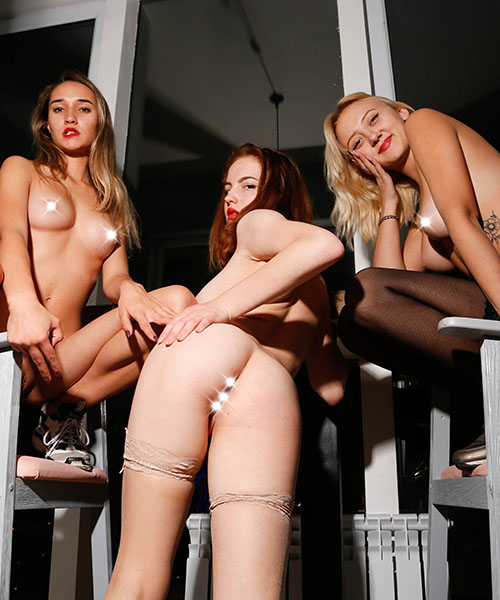 Anna, Anisa, Violet – Triple Threat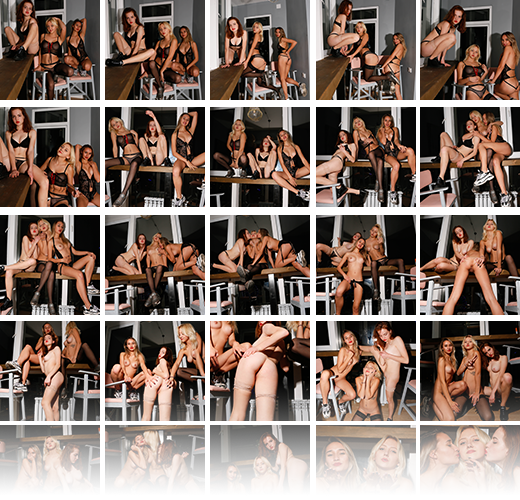 75 Pictures in ZIP Format
Product Description
Downloadable photo album in zip format
Resolution: 3840 x 5760
Got something to discuss?
---
Boss
Okay, no more Anna for now. You guys have had enough.
How about a fan voted unlock level where You guys pick the model for level 11? Let us know your thoughts.
Guest
Ariana or Karina would be great. But in general every model stepping up her game or with a video is a plus!
Guest
Guest
Guest
I second that! A sexy Rikki set to put a smile on my face!
Guest
I'm sure most people would be pretty happy with that.
Guest
Alice. Nude with no hand bra or tape. Not just 1 or 2 pictures either, a full glamorous set with a video. Failing that, an erotic set from Ariana and Karina together. Thanks.
Guest
vote Bob for president! 😉
Guest
Hum, that's interesting, but I have a question: would that level 11 be a new set made exclusively for this event, or will you simply fill level 11 with a set already produced and stored ?. For example, my choice would be Nicolette, or Rikki, but maybe both models are not working anymore or it is not possible to make a set for this event with the girls we want. I do not know if I'm explaining myself well.
For the rest, the proposal is very interesting.
Guest
I like this idea but probably too late now.
My picks in order:
1. Nika IF NO hand bras, No pieces of fruit, No inanimate objects; or No construction items (ie tape) obscuring her breasts.
2. Lena (see through panties, please)
3. Kayley
4. Sarah (see Nika)
I'm so glad I get four votes.
Guest
Isabella, of course (if we're voting here and now). Or Lena, since we'll never see Isabella again. Or surprise us with even more Anna!
Guest
Alice or sarah for level 11 be good
Guest
That would be awesome….I'm in…love to see kaylee again and again and again
Guest
Rebecca and violet lez out is my fan vote!
Guest
Sounds great! I vote for Alice completely naked on a bearskin rug in front of a fireplace with a roaring fire. 😉
Guest
My vote has to be for Nicolette.
Many thanks!!!
Guest
Ariana or Kira for me plz.
Would say Karina, but she just had a update.
Guest
I love that idea. I vote Karina!
Guest
Guest
If we get to pick…my vote is for Lena!
Guest
Yes if it's Gabbi with Lena.
Go for it , should be fun. My prediction is Becca
Am I allowed to destabilize election using Russian trolls??
Guest
Any Isabella? I'll take a bundle.
Guest
Would love to see more alice
Guest
Alice and Rikki would be a dream come true
Guest
Guest
The guy who got this right, pin yourself a medal. Btw, Anisa needs her solo debut.
Guest
Guest
Candy for Christmas, that would be amazing. Even if its a set of OOOps and slips lol Thruth….any candy
Guest
My vote is for Ariana, especially if you have a set sitting around that happens to be a little bit extra spicy.
My second option would be any model with a level-up in her spicy range.
Guest
great idea!
#1 Karina with a "touch" video
#2 Violet, Alissa, Rikki or Alice!!
Guest
An all-revealing Sarah and Alce would be great, but in caser that's not possible, I would like an Ariana and Rebecca set.
Guest
Guest
Ariana And Karina
With shower vid
Guest
Definitely need some more topless Lena!
Guest
Vote, eh? I say Rikki. If that's not possible. Isabella. if that's not possible then Alice will do.
Guest
Love all the ladies ! Very sexy I'd like to see candy topless ! I'd pay whatever
Guest
A fan vote for level 11 would be quite nice, I say bring on the vote buttons! (or any other means of voting).
Thanks for this awesome unlock, this set is incredibly hot! did not expect that from the blurry preview. While the setting could maybe have been chosen better as it seems to have a made proper lighting impossible, Anna, Anisa and Violet all 3 more than make up for that with the incredible hotness of this set!
Guest
I would like an Ariana set from Santa.
Guest
I don't know if there could ever be too much Anna… but I'd like to find out… Can we see some more of Anisa? She could benefit from more exposure… though she's really standing out in these "cameo's"… Fan vote sounds awesome though my top pick (Gema) would likely not win, but I'm sure I'll be happy with more from any of my other favorites… Cheers to another epic event, and ending another year on a high note…
Guest
EVA!! If there is anything more left of Eva, or even if she could be booked again in the future that would be awesome!
Guest
Guest
I like the fan vote 11.
would you maybe provide a list to pick from?
Guest
Sounds good. Where do we vote?
Guest
Make Isabella great again!
Guest
Isabella if possible. Anisa Solo or Lena when Anisa Haß no Solo Debüt.
Guest
Guest
Guest
Lena or Nika with a video.
Guest
Hot set with 3 breathtaking young ladies……
Would have been nice to have a few more pics in the set but the ones you have provided us with are magnificient!
This is a combination you should be shooting more often 😉
Thanks MC!
Guest
Hot set, but I wonder if I received the complete set: only 75 pictures in the file!
Boss
That's all of them. Sorry for the shorter set.
Guest
Anna is taking over Marvelcharm! and I'm definitely ok with it!
One of my favourite since she came out.
Unfortunately I'll will have to wait a bit more to buy it because of christmas #emptywallet
Thanks MC team, you spoil us everyday.
Guest
If you can make it a bundle: Include Rikki, Eva or Anita. These girls are so rare these days.
Guest
For the voting: Isabella!!!!
Guest
Ariana And Karina
With vídeo shower
Guest
Not that I'm counting , but we're currently three short on daily updates (wait , sorry, I am counting)
Thanks for this magnificent Christmas present.
My vote is for a double model set. (preferably Lena and fill in the blank)
Guest
Why are they wearing runners with sexy lingerie?

Thats a poor decision choice .
BTW, I vote for some hot Anita.
Guest
I guess MC staff is celebrating the Holidays,no updates,the level bar is'nt moving. I do hope that if there is a level 11 it is as epic as Maddie over at TM.
Boss
It's moved like 50% today.
Sometimes it can be slow.

Guest
Are there going to be anymore daily updates? I think we've missed 3 or 4 now. Those would certainly help move the bar.
Boss
Will try to eventually. Christmas day is here so it will be difficult for today.
Guest
Just having some fun with you guys 😉
Guest
Another Lena topless would be perfect to ending this years 😉
Guest
100% lets open level 9! 😀
Guest
I keep refreshing,they're delaying on purpose lol. 😉
Guest
It may "only" be 75 pics, but this is a set definitely worth getting!! Some great peeks and slips and then a full-on spread of Anisa by Anna and Violet!! And this is coming from someone who usually passed on pic only sets!
You may also like…