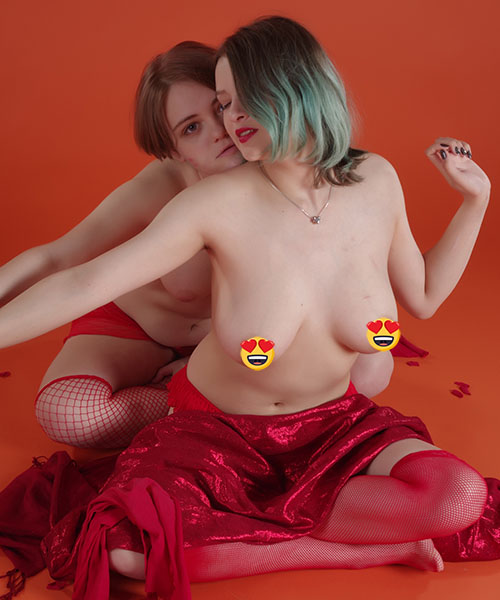 Lena & Nicolette – Marvelous Duo
177 Pictures in ZIP Format
Product Description
Downloadable photo album in zip format
Resolution: 4912 x 7360
Got something to discuss?
---
Guest
Thank you! It was well worth the long wait.

Boss
Oh my, the credit cards are flying out.
Enjoy the multiple sessions you'll get out of this one. 😉
Guest
Credit cards aren't the only things flying out! HEY-YOOOOOO!!! …*ahem*… Haven't been able to access TM all day… everything OK?
Boss
TM is fine now, but if you can't connect, send us a message. It could be an IP issue.
Guest
I certainly hope so! As much as I'm itching to buy this one right now, I've gotta be patient and wait to see who is at 3 and 5 before I start spending. Once those show up, I hope you enjoy all of my money
Guest
#3 Sarah, #4 Alissa and #5 Alice
Guest
That's what I'm hoping/praying for. Alissa was an easy guess…her beauty can't be hidden behind some blurred images
Guest
I'm a little surprised level 3 hasn't already been unlocked.
Guest
the progress bar raises pretty fast in the last hours xD
Guest
Guest
Very nice set…and, I admit I was wrong (on this one rare occasion)…I was so sure the second model was Nika. Maybe next time…hint, hint, hint.
Guest
I was afraid this set would not live up to the hype, oh boy I was wrong, it's every bit as lovely as I hoped it would be!
Guest
First off, both ladies are SUPER incredibly cute and sexy as heck in this set. Please do more sets with them together.
Lena… FINALLY babe. To borrow and appropriate classic phrase… "you look MARVELOUS!" Or should I say look… 😛
Also, I'm one of Nicolette's biggest and most vocal fans. She does not disappoint here either. Please most more Nicolette sets.
Fantastic set all the way around. They are perfect and adorable together. Just an absolute jaw dropper that's been such a very long time coming. Wow. The door has been opened.


Thanks to all!
Guest
Guest
Hallelujah !!!!!!!!!!!!!!!!!!!!!!!!!!!!!!!!!!!!!!!!!!!!!!!!!!!!!!!!!!!!!!!!!!!!!!!!!!!!!!!!!!!!!!!!!!!!!!!!!!!!!!!!!!!!!!!!!!!!!!!!!!!!!!!!!!!!!!!!!!!!
Guest
So hot. Yup gonna get a whole pile of sets I'm missing.
Guest
hot dang that's a great set!
Guest
Nicolette really beautiful in this set. And Lena YEEEEEEEEES finally 😉 perfection. Hope for a Nika+Lena set ASAP. And Nika and Nicolette….
Guest
At least Lena !!! WOW !!!
Guest
At the end, alleluia, miracle! The two most angelic faces of Marvel together, and having a nice and fun moment. 177 photos is a generous set, and it was still short. I would like to see these two beautiful girls together again, and especially, I would like to see something more of Nicolette. I'm the fan number 1, number 2 and number 3


I see with admiration that the progress bar is running at full speed. That is a good sign, yes sir

Guest
WOW – 717 MB of pleasure and magic!
If the good fairy would allow me 3 wishes:
1. Video of this set (need to see Lena's magnificent boobs in motion…)
2. Similar set (and/or video) with Lena and Nika
3. Topless set of Eva
Guest
One thing you can say about Lena fans are we are "patient." Marvel first announced this one was back in May of 2017. Obviously it was worth the wait. Lena and Nicolette have a easy rapport with one another and the set is highly erotic.
Hope they can renew acquaintance in the near future. (with Lena's arm tat which is very sexy).
Also No surprises with Lena's fist topless set. She has an amazing rack. Hope this is the norm in future sets.
Thanks to Marvel, the photographer ( easily my favorite photographer) and the intrepid Lena.
Keep kicking ass, Lena.
P.S. Have I've ever mentioned that Lena needs vids in the future?? Oh I have (LOL)
Guest
Guest
Any reason why the update bar is no longer moving? It's been stuck at 62% on level 2 for past 10 hours or so. Is it a website glitch or no one is buying anymore?
Boss
It was like 6 hours, but its updated now.
Guest
Thanks admin! Appreciate your hard work and looking forward to more pleasant surprises xD
Guest
Yeah ,Thanks a lot admin for all your works here and on TM .We truly appreciate <3
Guest
Nicolette and Lena set got us up to 87% on the eagerly anticipated Level 3 very quickly . Thanks girls
Guest
Community Goal:
Keep Marvel Admin from getting any sleep for seven more days. Come on guys, we can do it!!
Probably no time to read this Boss, but I think you mentioned a possible webcast in the past. Was that a thing?? Might it happen?? Or do on need to detox off the s'hrooms??
Guest
Guest
Oddly enough, not really interested anymore. Waited to see Lena topless for a long time but now I've oddly lost interest. The teasing through see-thru outfits and what not dragged on from months to then years…..now I'm like, meh. Having trouble pulling the trigger on this one.
Guest
FINALLY!!!!!!!!!! I thought her puppies was going to sufficate from being covered up all this time. THANK YOU LENA!!!!!!!!!!!!!!!!!!!!!!!!!!
Guest
Guest
Thank you Lena, so gorgeous.
Guest
Guest
As a long time fan of Miss Lena, going back to her Silver Period, it goes without saying that the unveiling of her magnificent rack marks what will forever be observed as a national holiday in my home, complete with fireworks and a parade. Seriously, thanks to Lena and to the gorgeous and sweet Miss Nicolette, who also has the power to raise my temperature and blood pressure to dangerous levels. Other than delicious toplessness, this set has some terrific interplay between the girls, and that makes it even more sexy and exciting. Lena's playful teasing is always a pleasure to see, but when it's directed at the lovely Nic is is mind-blowingly hot. These girls should get a room – and all of their fans must be invited to come in and watch the fun!
Thanks ladies, and thanks MC!
Guest
These two ladies are godesses, especially when you put them together.
There is a certain chemistry between them that makes each set unique and well worth the money.
And finally we get to see full frontal boobs of Lena without any pasties!!!
That alone made my day, but the combination of Lena and Nicolette is just magical.
Thank you Marvel team for this wonderful set!!
Guest
Please post more Nicolette sets soon!

You may also like…