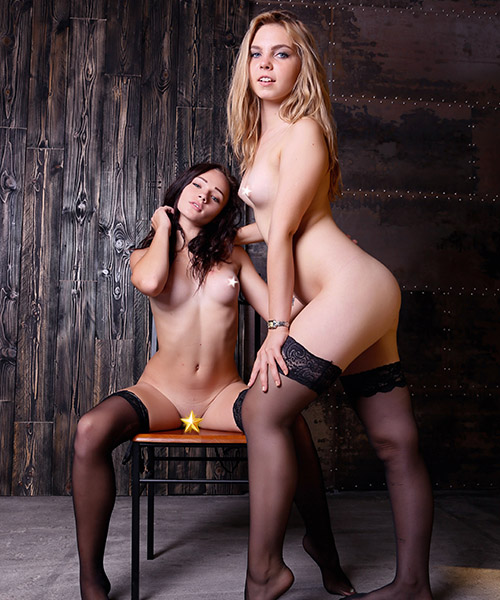 Rebecca & Karina – Bad Girls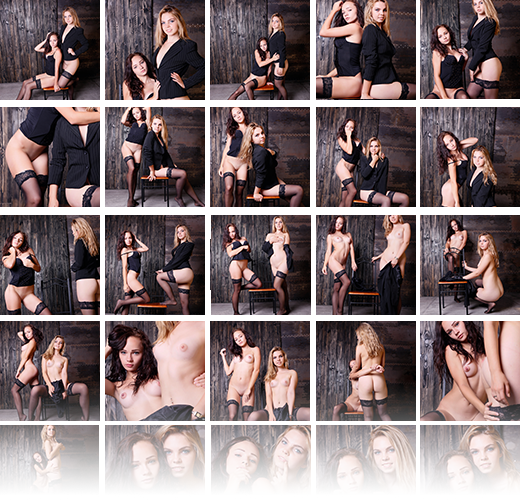 113 Pictures in ZIP Format
Product Description
Downloadable photo album in zip format
Resolution: 3840 x 5760
Got something to discuss?
---
Guest
my girl is a bad girl, love it. and shes with her lovely friend Rebecca?! icing on the cake. OXOXOX <3 <3
Karina is always a must have, keep up the great work love!
Guest
Karina is just gorgeous, but Rebecca is the league of her own, so damn sexy. Solid effort MC. Thanks.
Guest
Holy **** Awesome set by the 2 hottest babes, Rebecca Karina looks so hot in this black set pity no vid

Guest
the second I get paid I will be buying this set. I really wish there was a video, but understandable if there wasn't time or something. Bravo MC, Rebecca, and Karina. ❤ ❤ ❤
Guest
I love this babes, hot, please videos of this georgeous girls
a shower set with video mmmmmmm karina ariana e rebecca!!
Guest
This set is an instant buy!!…Black Stockings on these 2 beautiful girls, my heart stopped ! OMG more sets like this with suspenders also , both are stunning and gorgeous. I love Rebecca
Guest
There have been some serious stocking / 'Knee high' sets on MC lately. Yet only so few. Violet and Rebecca had some good ones and Lena's cosplay always delievers but THIS set just took the biscuit. Karina's last stocking set was amazing and this one follows suit. Rebecca is a perfect match. I will start 'stocking' up my collection now.
Guest
For sure!, Mostly of MC girls have beautiful legs (also on TM) and with those lace stockings make a perfect match. For me is a 1000% turn on when they are combined with a sexy garter belt, of course I have my favorites… Rebecca, Stella, Marissa, Alissa, Mila, Kira, Nika, Karina….these for me make a heart melting combination, lovely legs with the black stockings, keep it up MC team! This was an instant buy for me. I love to see Anna, Katya, Alice and Katrin having some stockings sets too.
Guest
On paper, I like duo sets. But I look at my HD and there aren't many of them. And I think I know why.
When I see the previews, I got the feeling of team work. You know, two comrades doing something together. And this is nice and beautyful. And of course, people like it. But maybe it's not what I am looking for. I don't want them to work together, I want them to compete. I want them to steal the show, I want them try to outshine the other. I want both of them try to outperform the other. Team work is OK, but it's like a pre-season friendly match. And as anyone interested in sports will understand, I'd rather see a final.
I haven't bought this set yet. I do like both models (they are both great) as well as the props and location.
Guest
What a good-bad girl couple yum. Fantastic set with a superior quality.
Guest
Sometimes I look back in my old collection and of course have every Rebecca set. What the hell is it with Becca? She doing it all the time over and over and over again 😛 Then Karina, They are both true beauty perfection in front of camera. LOVE 😀 😀
Guest
This probably won't get answerd but I'll try anyways.. how tall is Becca?
Boss
She's a small petite girl. Don't have exact measurements.
Guest
My wild guess is somewhere 150 and 155 cms. Most of the girls in this site are rather petite. Gabriella is something like 174 cms and she is way taller than most.
Guest
Hey MC, I so enamored was I with this set that it actually inspired a short little imaginary interview/scenario. Or, if you're a believer in the multiverse, some version of reality. Either way, it was fun to imagine many of the outfits from her shoots as work attire of a different sort. Thanks for really, really great set!
—
We spend a few minutes, catching up with Rebecca, proprietor of Becca's Charms Cabaret.
The owner, often likes to serve as primary host, covering the front of the house, greeting and seating guests. Keeping things professional, today she's dressed in a black and charcoal pinstripe jacket and black lacy thigh highs.
"The only dress code here, is sexy" she says. "Obviously lots of lingerie, topless and occasionally (as evident today), bottomless. Jackets usually get a lot of compliments, especially when coupled with little else. I'm sure it's realizing a fantasy about women in a professional setting."
When asked about her underwear, "I didn't wear any" she replies cheekily. "It is a cabaret after all."
Any other favorites? "Hmm, the open cup crotch-less teddy is definitely a head turner. Even though the teddy is sheer, the guests usually are fixated my boobs" she chuckles. "That is until they get a glimpse of it from behind, the cut-out for my butt is pretty generous, and the center is completely bare. It's kind of refreshing, actually. One of the few pieces that doesn't stuff my ass with fabric." An eye roll turns into a smile.
"Most women spend time agonizing over outfits and rotations," she muses. "I'm not saying I don't put thought into them, I am saying if I don't feel like wearing pants or underwear… well, as you can see, I don't!" We both laugh.
Her tone then turns somewhat serious, if reflective "But I'm lucky, I know that. Sure, I'd love it if society relaxed a little when it comes to showing our bodies. I mean, I love being naked. But it's the sexiness, the mystery, showing some but not all, that's the sweet spot. Think about it, as long as there are rules or limits, things will be taboo or forbidden. And that is what makes all of this so damn exciting."
As we're wrapping up, another member of the marvelous staff (Karina) approaches to inform Rebecca that guests have began arriving. This prompts our final question, noticing something of a theme with Karina's attire consisting of a black and gold studded bustier, and similar thigh highs.
"What can I say, it's bottomless night. Drinks aren't the only thing 1/2 off!"
Boss
Looks like you've taken a few writing classes in your day. 😆
Guest
Nah just a hack. But thanks!
Just curious if you've thought about adding Gravatar support for the site? Or maybe your own version that would have users pick one of the models to be their avatar.
Basically, just wondering if there are any thoughts about adding/enhancing the sort of communal features here. Though I've been buying sets for over a year now, the Levels thing seemed to generate the most chatter I've ever seen. Now, I understand that was due in large part to the fact that it helped expedite the arrival of new content. And obviously, that kind of event isn't financially feasible for most of us on a regular basis.
Maybe even the ability to vote on upcoming sets upon purchase?
Anyway, just some thoughts.
Boss
We could add gravatar. We don't want to try and moderate a full forum, our hands are full. Still, we have the most active fanbase in our niche.
You may also like…