Nika & Polina – Angel & Devil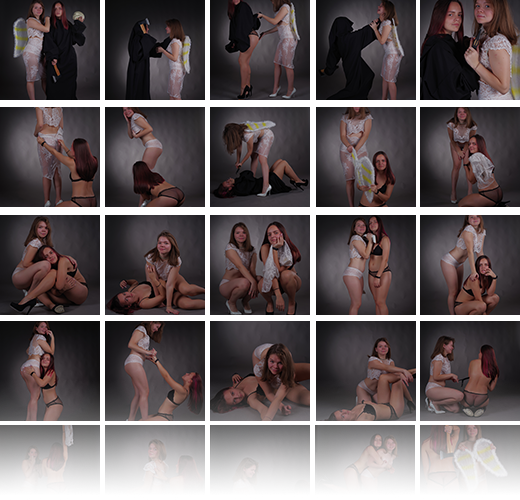 198 Pictures in ZIP Format
Product Description
Downloadable photo album in zip format
Resolution: 4912 x 7360
Got something to discuss?
---
Boss
had the urge to actually just make the preview of Nika in the robe completely covered, just to see if it would be an instabuy still. 😉
Enjoy the Halloween theme, there will be more coming.
Guest
Can we expect more sets than usual this week?
Boss
We'll look through our library and see what there is.
Guest
Guest
Oh Lord! This looks to die for. Lol. Nothing better than my favorite model…except for my new second favorite model.
Guest
What was the "+ ???" part? I only see the 198 pics.
Boss
This was a mistake. There is no ???. Was copy pasted from the last Polina set on accident.
Sorry.
Guest
WOW……one of the best sets yet. More please!!!
Guest
INSTABUY.
I'm already a sucker for the Halloween themed sets but, give me a Nika & Polina set… fuhgettaboutit!
As for the set itself, whew!
Polina may not have gone straight to the deep end, but with those sheer panties she came damn close. But Nika, is no slouch either, she's definitely spent her time away improving upon… well, everything! But especially her backside. From top to bottom, many glorious shots showcasing her assets. Also, while I still think Polina reminds me a bit of Lena, I'm also getting a Kleofia vibe. Man, talk about someone who'd melt your face off with a rebirth.
Looking forward to more of these two together for sure, but either way Polina is a very welcome addition to the Marvel family.
Lastly, whether the photographer is reading our comments or communication is passed via MC Admin, I have only two requests.
-Would always love to see more horizontal pics, specifically for my wallpaper collection.
-While it remains to be seen how far either will go in future sets, I'm very, VERY much hoping neither will be trimming certain areas. The hair down there is seriously very sexy.
Anyway, I guess we'll see what's in store for the remaining days until Hallow's Eve, but this was a helluva start!
Boss
Thanks for this. We will pass it along.
Nika's photographer was a little concerned that she gained a little weight, but I believe it was in all the right places, and she does workout as you can tell. I was a fan of her legs before, and I am even more of a fan now.

Guest
100% agree!
Truly, I think Nika looks better than ever. Nothing wrong with filling in -as you say- all the right places.
Thanks!
Guest
She looks far more feminine with a little extra weight IMO, skinny models do nothing for me.
Guest
I say this with the utmost respect to Nika's photographer, but they need to mind their f'ing business! The first thing I noticed was how hot Nika's body became with time!!
She doesn't need someone commenting on how her body looks, etc. Especially when she looks DAMN FINE!! Those legs!! Can't wait for the set, but the first thing I thought, man, she got hotter!!
Please baby Jesus I'm waiting for the day when we get 10 min vids of Nika!
It's not too late to do a feet vid of her with a pumpkin pie and whip cream!! She has both feet in a pie each. and mashes it between her toes and to finish off she has whip cream boobies! And sprays whip cream in her mouth. (And for the love of god, have the can fully upside down. Nothing worse than seeing people spray whip cream half-tilted so all the air comes spraying out.
Nika is beautiful just by the preview shots. Please make sure she knows that, and make sure that photographer knows this! Let her grow and form the may she was meant to!
Guest
I just want to throw my whole hearted support behind the not trimming idea! I wish there were a few more models with a neatly trimmed appearance, especially on those sets with sheer panties. The trend in the adult world is leading towards more models not going completely bare, a trend I enjoy!
Guest
I wish women didn't trim at all. Nothing gets me harder than seeing a full on bush.
Guest
Thanks for listening to a poor lads request , Mr. Charm and delivering on the Halloween set with a second to come (fingers crossed)
Sorry it took me all of 62 minutes to buy this fantastic set. .
Guest
Nika has joined my list of instabuys,Polina is a nice addition.
Guest
Woho Nika and Polina of course an instabuy 😀
Guest
Wow both girls are absolutely adorable in this set loving the return of Nika and the Arrival of Polina :). Definately a must buy set!!
Guest
MC, you really do have amazing Ideas for Halloween sets. You need to pass by TM to share your ideas

. MC, Next year Halloween, it will really amazing if could make Halloween sets for these models Diana, Bety, Phoebe, Vanessa, and Sabinka. Surprises us. Make it scary, freaky, and sexy. This is a must-to-do list. Make 2021 Halloween month to remember

Thanks
Guest
Nika can use more sheer underwear, top and bottom, and more back shots pleas hahahaha, and wellcome Polina

Guest
PLEAS tell Nika to NOT shave, down under PLEASSSSSSSSSSSS, we need more bushie in the pus**
Guest
Nice to see the naturalness of some bush. Especially on these girls. It looks like Polina has a real nice bush. Would love to see

Guest
I prefer the more toned Nika, but ANY Nika is good. Also Love the sheer.
Guest
I knew she was a little bigger(in a totally awesome way) from the glimpses in her Rebirth set but this set really shows it off very well. I found myself scrolling through the pictures and stopping staring at her butt, WOW. I sure would love to see her in a video even if it was short. Old Nika is great, new Nika is even more spanktacular. Welcome back Nika and welcome Polina.
Guest
this set was smoking hot.
You may also like…